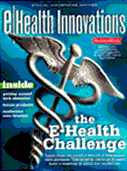 In March 2006, for Baseline Magazine, looked at how Todd Pacific Shipyard got creative with a wireless PDA network.


February 2006's eWEEK looked at how technologies—such as biometric and contactless payments—only work if they're popular, the challenge that Crabtree & Evelyn faced with their homegrown legacy apps, Yahoo's efforts to make themselves the primary consumer search engine, questions about how much data is being accidentally made public with Web sites, the RFID hype effect and the U.S. Homeland Security Department's decision to delay an ambitious RFID plan.


At eWEEK in January 2006, the new year opened with talk of wine purchases through new-age kiosks and how a PDA wireless network helped a New York food distributor cope with financial pressures, the latest thoughts on how to balance distributed versus centralized IT operations, the challenges Oracle's been having keeping their stories straight, the creative ways users are trying to get around RFID's errors and how consumers are resisting retail biometrics more than they were expected to.


December 2005 at Ziff Davis saw the expected focus on holiday sales and whether gift cards need to be more secure plus how holiday shipments are helping the Post Office turn around a several-year-old slump. We also looked at whether retailers were being naughty and manipulating their site search results and how Experian entered the battle for control of the price-comparison sites. Also wrote about how food giant Del Monte cut its helpdesk calls by 90 percent and a potential new market: products that block RFID communications and why the National Security Agency got so freaked out over improper cookie usage.


As the weather turns colder, retailers' eyes start glistening. For Ziff Davis Internet in November 2005, examined whether Black Friday secrecy should become a relic of retail past, the implications of Black Monday on IT managers, the myth of E-Commerce Level Playing Field, and the differing approaches to E-Books taken by Microsoft, Amazon and Google. Also looked at corporate efforts to keep E-mail useful, the attempts by one tradegroup to limit how vendors use the word "sensor" and how one major Johnson & Johnson division is handling data archives.


At Ziff Davis Internet, October 2005 explored how the CIO for Harrah's decided to bet big on the Caesars merger while the CIO for Virgin's music stores felt that kiosks were playing his song. You can't talk about RFID much without having to address privacy worries. Reviewed a book that tries to make the RFID privacy argument and also looked at how casinos are trying to lift data off of driver's licenses more easily. Also considered how effective RFID chips are at protecting themselves. E-Commerce is still a hot topic, with stories about the gas price impact on holiday sales, the no-touch retail strategy at MasterCard, how the Web tax scare might be nothing more than a trick and the controversy over supposedly deceptive search words in Web ads.


In September 2005, looked at infrastructure trends for a BusinessWeek special advertising section.



In September 2005, Ziff Davis Internet looked at the ongoing saga of payments systems vendor CardSystems, which after revealing personal data on some 40 million payment cards, now argues that all is better and that bygones should be bygones. CyberSource thought that made sense, so it agreed to buy all CardSystems' assets. In the payment wars, Amazon wants your spare change: All of it, while PayPal thinks it can make micropayments pay off this time. SAP finally tried to counter Oracle's retail buying spree with its takeover of Triversity, which raised the question of When is Vaporware Not Vaporware? Hardly Ever. Back in the supermarket checkout arena, sharply falling RFID prices reignite the debate of item-level pricing while a U.S. Appellate court tossed out a long-running bar-code patent case. In other news, we looked at the security implications of advanced POS systems and how the CIO of the Cold Stone Creamery ice cream chain is looking at CRM. We also looked at how scammers are trying to take advantage of Katrina Donors and some vendors are either trying to help Katrina victims or make a buck or both. The distinctions can be subtle. We also looked at how the CIO of $5 billion facilities empire Emcor is trying to bring tech and business together in some rather untraditional ways. Also looked the next-generation bar code scanners and mounting evidence that banks may have finally figured out online banking.


In August 2005, Ziff Davis Internet looked at the high-growth environment of Overstock.com and whether its CIO was testing the boundaries of executive candor. We questioned what executives truly learn from security audits, the efforts at Yahoo to strengthen it's E-Commerce hosting service and some unexpected trends from retailers using self-checkout. In our ongoing series of CIO profiles, we looked at two aggressive wireless backers: The CIO of the 433-store Krystal fastfood chain and his strategy behind offering free wireless for all customers and the CIO of the 3,000-store Rent-A-Center chain who sees wireless as the only cost-effective way to support growth. We also looked at the Philadelphia Stock Exchange CIO's need to handle 129,000 messages per second and store 490 million messages a day and the CIO of the $8.4 billion Canadian Tire conglomerate who saw replacement of a 15-year-old POS system as strategically crucial.


In July 2005 at Ziff-Davis Internet, fallout from the CardSystems data theft case continued as Congress got involved, hearing contradictory charges about the data loss and raising questions about whether there indeed needs to be new data-protection laws. In our continuing conversations with key industry Chief Information Officers, the IT maven of Canada's largest clothing chain spoke about the practical limitations of CRM, a major healthcare company CIO spoke of the need to embrace custom coding, while evaluating VoIP and rejecting Linux and Oracle as too risky. A CIO survey raised questions about what CIOs know and should know and talked about how those execs must be careful when vendors like Oracle get acquisition-crazy. It was Oracle's purchase of ProfitLogic that prompted that column. Retail attempts to use technology to minimize theft got a boost from some low-hanging video cameras, while E-Commerce trends looked at travel sites that are bucking an industry trend to use private data less often and the problems that most E-Commerce sites have during checkout.


In June 2005 at Ziff-Davis Internet, security topics set a cautious tone to the month, with the 7-Eleven CIO pushing the company's contactless payment program, it was only natural that we'd follow with concerns about how safe contactless payments truly are. With that heightened sense of security in the industry, CVS announced that it was temporarily shutting down one of its Web sites after a security weakness was publicized. In the CIO space (beyond the 7-Eleven CIO interview just referenced), we heard the Cingular CIO discuss the pain of his AT&T Wireless merger, the Stride Rite CIO bucking conventional VPN wisdom and the CSK Auto chain CIO arguing for frugality with an all-Linux environment and electricity via Ethernet. We also looked at the increasing competitive pressures on eBay as it turns 10 years old, along with several opinion columns detailing why corporate Web pages need to be simpler, why retail regional pricing is a relic that should be obliterated and the dark side of Web one-to-one marketing. Ziff-Davis also explored contactless vending machines (Look, Ma! No, Coins) and midmarket retail growth in developing nations.


In May 2005 at Ziff-Davis's eWEEK.com (and other Ziff titles), Wal-Mart testing robots for blind shoppers and a question of what retailers can do when they can no longer afford to be strategic made May an interesting month, along with a look at E-Commerce's tween years. Why should Microsoft sell to one-store retailers? To paraphrase Willy Sutton, "Because that's where the growth is." Meanwhile, those same retailers are slowly toying with wireless, but a few are discovering an unexpected wireless financial bonus. The CIO of the $3 billion Wawa convenience chain didn't get want any surprises so he recently decided to stick it out with SAP. But he was driven as much by a fear of upgrade pain as anything else. That's the main reason why SAP and Retek are still duking it out in a prolonged—as one analyst put it—pissing contest. Chase Manhattan is doing what it can put to push contactless technology, but users' fears of security may be more perception than reality. And from the creative yet annoying corner comes word of more surround-sound ad machines to torture customers stuck in grocery checkout lanes.


In April 2005, at Ziff-Davis's eWEEK.com (and other Ziff titles), looked at the mess marketers are making with perfectly good acronyms, how it was that Oracle's Larry Ellison came down with a bad case of POS envy, the non-intuitive lesson learned by the CIO of Winn-Dixie that bankruptcy has its advantages, how a maturing RFID market is headed in some surprising directions and the phenomena of using a cell phone number—but not the cell phone itself—to make purchases. And in the What's Old Is New Again category, we witnessed the rebirth of a dead E-Commerce site. In Europe, POS sales and Linux growth is the order of the day, while domestic RFID efforts are facing errors and resourceful IT execs are figuring out ways around those errors. Also, retailers are facing a critical IT security deadline.


In March 2005 at eWEEK.com, noted that Staples was so proud of its e-commerce redesign that it talked with reporters in advance. But when the site's launch date arrived, Staples didn't launch it. What's interesting is why. Plus, the environment was ripe and ready for Cingular to start selling data services, but was it ready? The battle between Oracle and SAP for control of retail company Retek dominated retail technology coverage for March, with one key analyst arguing that Oracle should win, if only on the merits. Also opinionated on why there was so much fighting for this tiny low-profile company. More analysts weigh in on retail RFID issues, whether it's how RFID business intelligence analytics software is virtually non-existent or how following in the footsteps of Wal-Mart is a remarkably bad strategy for anyone other than Wal-Mart. Buying clothes the 21st-Century Way was a feature that looked at laser-guided sizing issues and we also looked at how prices have been plummeting for POS. Ritz Camera decided it wanted to focus on RFID-accelerated checkout, which also played into an opinion column about the retail perception game.


February 2005 at eWEEK.com covered everything from e-programming to China's point-of-sale systems to smarter smart carts to Tower Records and its Web site to the new retail pricing standards to the dangerous allure of technology and hunting down e-commerce bandits. Plus, do drive-thru supermarkets stand a chance in the U.S. market? One guy thinks they will and is betting $12 million on it. And, is cash losing its cachet? The places where a consumer is actually encouraged to spend greenbacks and coins is getting rare.


In January 2005 at eWEEK.com, issues ranged from force-feeding commercials to trapped customers, to weathering storms for retail profits and retail's Holy Grail: one-stop returning. Some attempts to pull a barcode scheme on Wal-Mart and other retailers worked surprisingly well for quite some time, raising the question of whether the barcode scam at Wal-Mart was just a matter of priorities. Checked out the pros and cons of shoplifting and self-checkout. Plus, is retail experiencing a growth spurt? Recent announcements suggest an industry that is exploring everything but committing to little. When it comes to the Internet, eBay gets it. Here's why. Also, discussed Circuit City's new IT approach to customer service; covered RFID prototype demos; bit into McDonald's nine-store experiment with VoIP; looked at a new interactive Yellow Pages site being unveiled by Amazon.com; offered an opinion on CIOs and the IT predictions they must routinely make; and examined the debate about embedding tiny wireless RFID devices in people.


In December 2004, looked at unexpected IT security threats for a BusinessWeek special advertising section.


In December 2004, eWEEK.com looked at how the major retail Web sites are performing in the most strict Web response time sense. A survey also concluded that pricing and variety are small potatoes when it comes to what consumers want from E-Commerce. Give 'em customer service every time. We also took a moment to remind the IT world that the most powerful technology projects are those that integrate humans in the middle. The challenge of selling to children was a key issue for many retailers in 2004, but those headaches were nothing like what the Post Office enjoyed as it saw E-mail and E-Commerce obliterate snailmail activity. What holiday season would be complete without a controversy about retailers and returns? As is tradition, Wal-Mart continued to lead the way for retailers as far as RFID is concerned, while RFID advocates created plenty of their own implementation hurdles. And what would a year-end celebration be without a column of predictions about how retail technology will look in 2005?


In November 2004, retailer's thoughts turned to kiosks and holiday themes. Whether it's credit or blame, how many stories about kiosk marketshare can work in the lines: "The products were nestled all snug on their shelves, with visions of buyers wanting to scan bar codes themselves"? It's a living. Also, Staples is trying to get creative with rebates: How about $70 worth of merchandise if you give up your $50 rebate? There are new retail standards, Microsoft has plans for the smallest retailers and Will retailers get buried under mountains of RFID data? Also, the most frightening e-commerce signal to a retailer is seeing a lot of abandoned shopping carts. But perhaps that's no longer a bad sign? (Be forewarned: Don't read it if you really like eggnog.) The merger of Sears and Kmart raised the prospect of a new powerhouse retail IT operation and a merger story when it broke needed to be followed by a column on whether the merger makes sense. A company called Epiphany rolled out new CRM apps, but with a fixation on speed. And the CIO of the Tweeter home entertainment chain said one key way to properly handle seasonal employees is to keep them far away from customers, while the CIO of the Wawa convenience store chain is being driven crazy by credit-card companies. As the holidays materialize, retail thoughts tend to get focused on customer service. Of course, some customers insist on making it a Season of Taking. And what kind of pub would be if we didn't wrap up November with a look back at the major events of the year for retail technology?


E-commerce is a critical focus in the fourth quarter of the year, and October 2004 was no exception. But when Best Buy had been developing and pushing far-reaching multi-channel tactics, they apparently forget to tell employees about it. A follow-up opinion column was essential when we learned that customer service reps and store employees were executing policy that was the opposite of what corporate intended. Clothing retailers are also trying on E-commerce for size. And analysts seem to think that true multichannel sales are rare and that retailers shouldn't push online sales so much.


Will Microsoft be able to convince retailers that a smaller version of its operating system will work for them? In October 2004, eWEEK tried to figure out if it would work. Also looked at The E-Commerce Battlelines and suggested that today, almost a decade after the Web's birth, most company's online and offline units play together about as well as a room full of cranky sleep-deprived three-year-olds. Looked at how Wal-Mart is growing the world's largest retail datawarehouse, asked whether Wireless RFID Efforts will rewrite that landscape and looked at an alliance between Teradata and SeeCommerce. Also wrote about a device that lets POS units more easily handle wireless transactions.


Are retail store managers getting fed up with IT CRM rules and regs? In September '04, explored that issue for eWEEK.com and even offered a few opinions about those retail frustrations. Also wrote about consumer publishers' attempt to get into online sales for retailers.


In September 2004, tried a very different kind of consumer piece: a look at Americana and how it sells when it's a 160-year-old wooden statue.


In September 2004, looked at how retailers who push the envelope on CRM can get into trouble. This time, it's Albertsons being accused of calling and messaging pharmacy customers, having telemarketers pose as pharmacists. Also, PeopleSoft and JDA decide to get together for a retail strategy and the nightmare of dealing with returns.


RFID is still proving to be a hot retail issue in September 2004, as 7-Eleven's CIO discusses his long-term strategy and a small Canadian startup figures out a way to let retailers use barcode and RFID literally at the same time. Also, an opinion column asking whether some of the RFID privacy fears aren't a tad unlikely.


What's more dangerous than being the last to deploy a new technology? Frighteningly enough, it's often being the first. In September 2004, dashed off a column on that topic for eWEEK.


In September 2004 in eWEEK.com, talked with the EVP of Best Buy to better understand the various paths to RFID-compliance and why slow is probably the best course.


In retail, can a shrink shrink shrink? That strange question is the heart of a column for eWEEK in August 2004, where we looked at whether psychological testing (shrink—noun) can reduce (shrink—verb) staff theft at retail shops (shrink—jargon for products that go away illegally). Any column that justifies a triple wordplay headline is worth writing.


Linux seems to not be doing well—marketshare-wise, at least—in Retail, according to a recent industry report that we wrote about in eWEEK in August 2004.


Retailers want to be able to take over consumer PDAs and especially cell phones and beam ads and have real-time discussions. The question we asked in eWEEK in August 2004 was: "Will it work?"


Discover Card's struggle to increase its marketshare is forcing the Morgan Stanley unit to push technology and to be very friendly to retailers. At eWEEK.com in August 2004, wrote a story about Discover's support of advanced biometrics, how Discover's CIO sees retail technology changing and an opinion column about whether retail technology executives are getting too complacent.


When Toys "R" Us said it might become Toys "Were" Us, knocked out a column for eWEEK.com in August 2004 asking whether Toys "Were" Us was killed by Wal-Mart or itself.


At Ziff Davis's eWEEK.com, prepared a special report on self-checkout trends in August 2004, including a look into the real ROI—as opposed to the ROI retailers often cite, a piece on the security implications as well as some of the roadblocks the young technology still must overcome. Also wrote about the near-term future capabilities of smart shopping carts and offered an opinion on how retailers could get more mileage out of self-checkout efforts.


Has one barrier to RFID compliance been reduced? Looked briefly into that question for Ziff Davis's eWEEK.com in August 2004.


In a pair of columns for Ziff Davis Internet in July 2004, looked at the conspiracies against anyone trying to advocate retail CRM and whether users really want all that intimate a retailer relationship.


In February 2004, CMP Media's TechWeb wanted a story about the challenges that Linux job applicants face as Open Source skills become more needed. The package includes a sidebar, which looks at which particular skills are most attractive.


In February 2004, wrote the cover story for Print Media Magazine about how BusinessWeek outsourced much of its production operation and saw an almost immediate, 100-percent return on its investment..


In February 2004, wrote a column about Web marketing tactics for small businesses for Dynamic Business Magazine.


In February 2004, wrote a column about †the importance of using an art director strategically for Newspapers & Technology publication.


Co-wrote a November 2003 report for CFO Research Services about Chief Financial Officers' changing views about technology spending.


For the September 2003 issue of McGraw-Hill's Architectural Record magazine, wrote a custom-published section for the American Institute of Architects about the changes in contract management software.


For the August 2003 issue of Print Media magazine, wrote a column called "The InfoVAR," about how publishers need to view the changing world of selling information.


In July 2003, wrote a column for BtoB Magazine about the challenges and advantages of B2B Webcasts.


In the February 2003 issue of Consumer Goods Technology, explored how consumer goods manufacturers are using business analytics to improve efficiency.


In the February 2003 issue of Retail Executive Digest, an editorial supplement to Retail Information Systems News magazine, examined how retailers are looking very differently at cash and check transactions.


In the February 2003 issue of Print Media magazine, wrote a column about publishers who let advertisers go too far with custom publishing projects.


In the February 2003 issue of Time Inc.'s Business 2.0 magazine, looked at the business intelligence paradox: The more data that is collected, the more difficult it is to find the desired answers.


In October 2002, Edgell Communications' Retail Information Systems News wanted a profile of the nation's most senior Chief Information Officer (CIO).


Also in October 2002, Retail Information Systems News was intrigued by the changing approaches to creating an enterprise data warehouse.


That same month, another Edgell publication, called Consumer Goods Technologies, wanted a state-of-the-market look at large companies trying to manage their legacy systems.


In September 2002, looked at some of the interesting strategies retail companies have used to justify customer relationship management (CRM) projects for Retail Information Systems News. This story focused on the efforts of the Eddie Bauer clothing chain.


In July 2002, wrote a story for the international news wire United Press International (UPI) about the Commerce Department's effort to address new bandwidth for high-speed wireless access.


In March 2002, wrote a story for the international news wire United Press International (UPI) about how the weakened economy is causing a sharp increase in SPAM attacks.


In October 2001, BtoB Magazine ran a column about the right and wrong ways to use streaming media for corporate marketing.


In June 2001, co-wrote a piece that appeared in BusinessWeek (CP) about the future potential of broadband networking. This piece can be viewed in either HTML or downloaded as a PDF.


CommCore Consulting asked me on October 2000 to write a column about the ways vendors can work most effectively with online media.


A September 2000 piece for InteractiveWeek looked at how an IT manager can judge how secure an ASP really is.


In August 2000, wrote a piece for InteractiveWeek about the likely impact that the ASP movement will have on the IT community in 2004.


In May 2000, looked at security concerns in the restaurant vertical for Nation's Restaurant News.


In December 1999, was brought in to create and launch an Internet radio product for Penton's Internet World. Topics for the series included the future of the Postal Service, E-Commerce holiday shopping trends, the abandoned shopping cart problem, the sin of shipping and the customer service privacy dilemma. For most pieces, I performed all interviews, wrote and narrated the pieces as well as digitizing and encoding in both RealAudio and MediaPlayer.


At CMP Media's TechWeb in 1997, we wanted to see how larger traditional corporations were using the power of the Web to influence children. The first part of the series looked at the general issue of Web Selling to children and the second part specifically looked at an effort by cereal giant Kellogg to interest children with Internet-delivered video games. Much has changed in the last couple of years, but some of the points are still legitimate.


In 1996, back in the final months of CommunicationsWeek, cable modems were just barely emerging as potential highspeed connection alternatives. I met with early cable modem adopters in East Lansing, Michigan, Phoenix, Arizona, and Raleigh, North Carolina, to put together a peek into this new technology. Please remember that this was written in 1996. My most vivid recollection of the cable modem series is visiting Phoenix that summer, with the mercury topping out at 115 degrees. That was the true temperature, without any of this silly New Age heat index/chill factor stuff. I remember E-mailing a memo back to my CMP department head at the time and declaring a new personal travel rule: Evan would never again go anyplace where the temperature was hotter than the starting temperature of his oven. It's a good rule.


ABCNews.com gave me a rare opportunity in 1997 to freelance a piece about something that had virtually nothing to do with technology. A look at then-newly-available tapes from Lyndon Johnson's presidency, including LBJ's private thoughts about war and politics.


In 1997, the emergence of the Web prompted many behind-the-scenes negotiations among leading vendors as they tried to position themselves ahead of the technology curve. One small example of this were the early Web Printing negotiations, which I wrote about for TechWeb.


The Star-Ledger, a major daily newspaper based in Newark, New Jersey, wanted to tell its readers what ADSL was all about back in 1997.


With the E-Commerce wave hitting small- and mid-sized businesses, WebReview.com in 1999 asked me to profile a series of innovative companies that were truly trying to use the Web's unique attributes.


In 1996, when New Jersey Online was about to be launched, the managers wanted to have an Internet Business forum. NJO asked me to serve as the forum's Answer Man. It was an interesting assignment because businesses were just discovering the Internet, especially the very young Web. Although that forum has long since come down, here are a few of those early Q&As with some very early thoughts about the Power of E-mail, Linking Online Services with the Internet and Using The Web To Help A Small Business. Please remember when these answers were given, but I tried selecting a few that would still make some sense today.
Investigative Pieces
News Stories And Features